June, 2007
July, 2004
October, 2003
| | | | | |
| --- | --- | --- | --- | --- |
| DOB 4/1/01 | extended pedigree | 21 3/4" at 7 years | LA: | 2007 VEEV 88, 2008 VEEV 89, 2012 VEEV 90 |
Top 2 photos by Dennis Whitlock. Clio's dam, ARMCH Fairlea Heidi *D 'E', is still going strong at 13 years of age in the milk pail and in the show ring (her latest Best of Breed was at the age of almost 13 years); at 10 she was still winning Best of Breed and Best Udder (Heidi is on the left in that last link, with her daughter, ARMCH Fairlea Gretchen 2*D, and her granddaughter, ARMCH Fairlea Fleur 3*D 'E'). Clio's sixth freshening udder is shown below. Clio milked 4.8 pounds with 5.3% butterfat at 52 days fresh on one-day milk test as a second freshener, earning her *D and fourth place in the breed standings for 2004; the stars earned by our three daughters have made Paco a +S, and earned a second + for their grandsire, Raising Arizona, as well. We have retained Clio's daughter by Rosasharn's W atercolor , Birgitte; (a fairly close linebreeding on Raising Arizona, with a lovely first udder and a prodigious second udder) and her lookalike 2007 daughter by Hunk, Echo. Now that she is out of the shadow of her MCH herdmate Calli, we have had Clio out seriously campaigning in the show ring; she now has a few pretty purple ribbons to her credit. Like her sister, Calliope, Clio is also a prodigious producer of kids (21 kids in 5 kiddings). She is a great mom, easily caring for all of them with no help, though her record of producing does is not quite as impressive.
Show record: 8 x 1st, 1 x GCH Sr. doe, 3 x RGCH Sr. doe (Received a leg), 1 x BOB, 1 x Best Udder
Kidding Record: 2003, quads, 3 bucks and a doe, by Maestro; 2004, sextuplets, 2 does and 4 bucks, by Funny Cide; 2005, quads, 4 bucks, by Giacomo; 2006, quads, 3 bucks and a doe (Birgitte), by Rosasharn's Watercolour *S; 2007, triplets, 2 does (Echo)and a buck by Hunk; 2008, single buck (!) by Rebel; 2010, quads, 2 bucks and 2 does by Rebel, 2012, buck/doe twins by Helios.
305 day test data
Age (yrs.months)
DIM
Milk, lbs
Fat, lbs
% Fat
Protein, lbs
% protein
High test day, lbs
6.01
273
645
36
5.6
28
4.3
4.4
7.03
134
291
14
4.8
10
3.4
2.4
8.11
145
420
21
5.0
17
4.0
4.0
11.01
139
346
17
4.9
12
3.5
3.3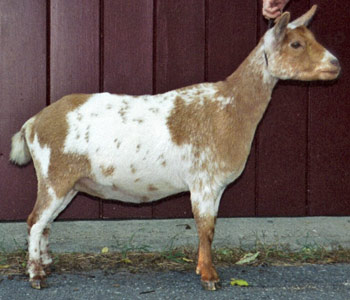 October, 2002; note the family resemblance to cousin Damask