Birgitte has one of our favorite pedigrees of the kids from 2006, including AGS National Champions Waterlilly and Eclipse, and ANDDA Specialty BOB winner and close Eclipse relative Heidi, as well as our favorite old man Paco in multiple places. Birgitte's lovely 2008 daughter, Minuet, has freshened with a very nice udder. Birgitte is actually a very good milker, with barn records for 2009 suggesting that her high test day should have been around 4.5 pounds. I do not know why she had an anomalously low first test day, but it significantly affected her apparent total production. She did tend to be a little indiscriminate in who she allowed to nurse, something I tried to allow for on later tests. Whatever the reason, I will say she has a lovely, soft, collapsible udder (everything you see in these pictures is milk) and a wonderful attitude towards the milk stand, and I imagine she will earn her AR easily on subsequent lactations.
Show record: As a kid, 2nd, 3rd, and 4th in very large classes; as a Senior doe, 1 x 1st.
Kidding record: 2007, buck/doe twins by Rio; 2008, buck/doe twins by Lancelot; 2009, single buck by Ushi.
305 day test data
Age (yrs.months)
DIM
Milk, lbs
Fat, lbs
% Fat
Protein, lbs
% protein
High test day, lbs
3.04
165
299
15
5.0
14
4.7
2.6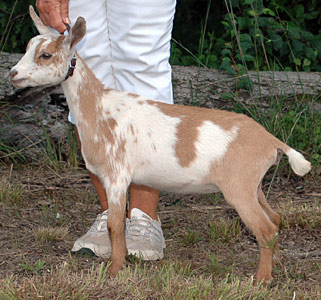 August, 2006