July, 2010
June 2010
This third fresh udder was really worth the wait.
June, 2008
(Left photo by Declan Dean, right photo by Lorene Toth) You see the personality that seems to be looking out of those eyes? Well, it's an accurate reflection of the devil inside, and that's the truth. Very impish, but good natured and easy to deal with, just the way I like them. I'm actually very pleased with her first udder even though it looks like those teats want to point forward--it's very tightly attached, as I have come to expect from Rio, so we will see how it looks with another freshenig and more milk. Wins accolades in the show ring for her outstanding general appearance, particularly her lovely feet and legs, another hallmark of all of our Rio daughters.
Show record: 1 x 1st
Kidding record: 2008, single doe by Halifax, 2009, twin does by Rebel, 2010, triplets, 2 does and a buck by Hunk.
305 day test data
Age (yrs.months)
DIM
Milk, lbs
Fat, lbs
% Fat
Protein, lbs
% protein
high test day, lbs
4.02
237
398
24
6.0
18
4.5
2.9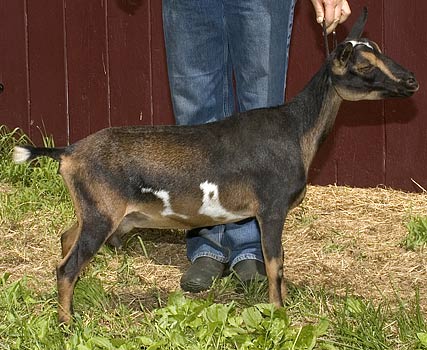 June, 2008, photo by Lorene Toth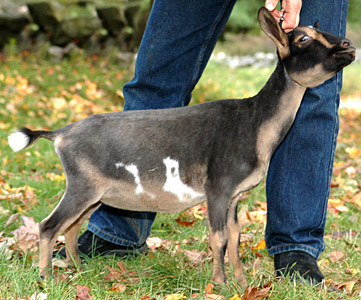 October, 2007, photo by Declan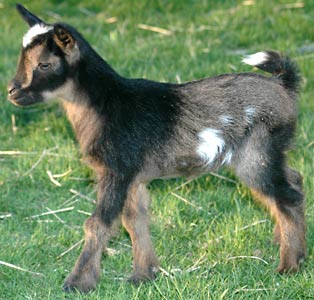 April, 2006