June, 2007
July/August, 2006
| | | |
| --- | --- | --- |
| DOB 12/19/03 | | LA 2007 VEEV 88, 2008 VEVV 87, 2009 V+EE 89, 2011, EEEV 90, 2012, EEEV 90 |
(Upper left photo by Dennis Whitlock, lower left photo by Pat Karohl--thanks, Mom!) Party approaches my image of the ideal Nigerian Dwarf; she may not be perfect, but she is just beautiful. She is a pleasure to look at, fun to show, and a joy to milk, and there is not much about her that I would change. Our linear appraiser agreed with me that she has a near ideal medial, rare in a Nigerian, and also commended her for her dairyness and exceptional rear udder height and arch. She earned her AR as well as her MCH in 2007 with a nice amount of milk; at the moment she is our second best milker, after the prodigious Stellaluna. In 2009 she earned the E udder linear appraisal that I always thought she deserved.
Show record: 10 x 1st, 4 x GCH Sr., 4 x RGCH Sr., 4 x BOB, 5 x Best Udder
2007 ANDDA All-American Milking doe, 3 years to under 4
2006 ANDDA Reserve All-American Milking doe, 2 years to under 3 (tied with Skylark)
Kidding record (since we owned her): 2006, buck doe twins by Turner Ashby (see Callisto and Lancelot); 2007, triplets by Hunk, two does and a buck; 2008, triplets by Rebel, 2 does and a buck (see Jubilee); 2009, buck/doe twins by Rebel; 2010, buck/doe twins by Halifax; 2011, triplets, two does and a buck; 2012, triplet bucks by Hallelujah; 2013, buck/doe twins by Hallelujah.
I never get tired of looking at this udder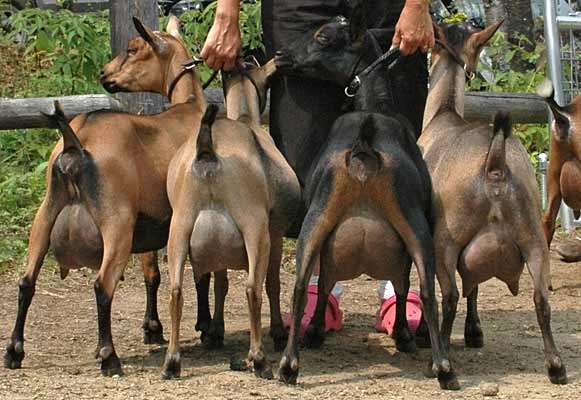 Lincoln Dairy Herd, August, 2006--Skylark, Flight, Party, and Nor'e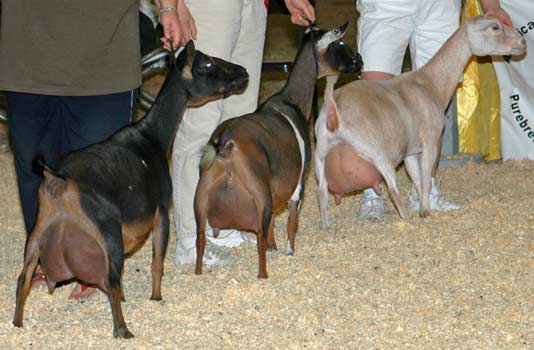 3rd in her class at the 2007 AGS Nationals
305 day test data (AR 2027)

Age (yrs.months)

DIM

Milk, lbs

Fat, lbs

% Fat

Protein, lbs

% protein

High test day, lbs

3.05

181

636

31

4.9

22

3.5

5.4

4.03

137

444

18

4.1

14

3.2

3.7

5.05
272
592
35
5.9
24
4.1
3.0
6.07
130
398
23
5.8
13
3.3
3.7
7.06
94
273
14
5.1
9
3.3
3.8
8.06
139
469
21
4.5
16
3.4
3.6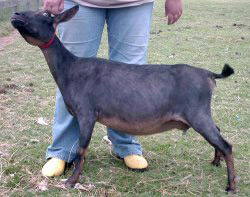 Party before entering the 12-step program