October, 2015
| | | |
| --- | --- | --- |
| DOB 6/3/11 | extended pedigree | 2013 ++VV 84, 2014 VVVV 88 |
Lovely, much like her dam, but sweet, a nice contrast! Not a particularly stunning first LA score, but advice is that she is a keeper with lots of potential. Very happy with her on her second freshening. Same super attachments, much increased rear udder width and capacity (milking over 6 pounds on her first milk test in 2014), and a pretty darn decent LA score considering she had been in milk at that time over 7 months. She just keeps getting better and better; although she missed our LA in 2015, her photos from October took my breath away. Her 2015 daughter by Solaris, Dragonfly SOL Lakshimmi, owned by Darla Faye's Mini-Farm, was GCH and Best Junior Doe in Show at her first show at 6 months of age.
Show record: 1 x 1st
Kidding record: 2013, single buck by Hallelujah; 2014, single buck by Sugarman; 2015, buck/doe twins by Solaris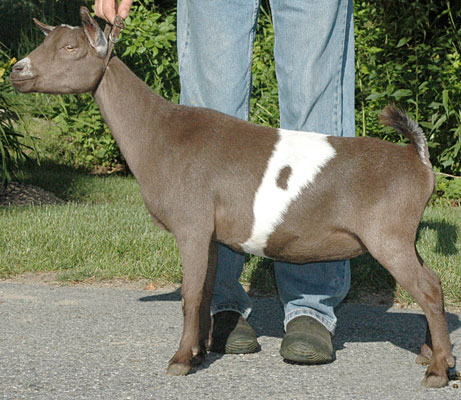 June, 2012
July, 2013
305 day test data
Age (yrs.months)
DIM
Milk, lbs
Fat, lbs
% Fat
Protein, lbs
% protein
High test day, lbs
2.07
254
871
38
4.4
30
3.4
6.3
4.03
154
499
34
6.8
29
5.8
3.9
September, 2011--she never has been particularly easy to photograph!