June, 2009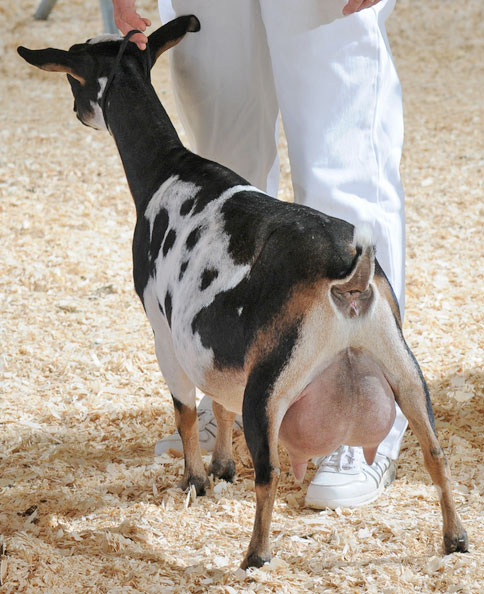 July, 2011, ADGA National Show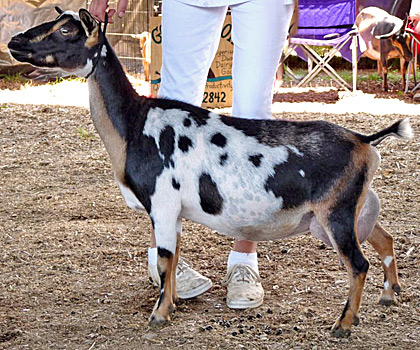 July, 2009 (above photo and head shot below
courtesy of Dan and Glenys Gotthardt)
5/16/06 - 8/9/12
(Bottom photo courtesy of Dan and Glenys Gotthardt, top photo by Lorene Toth) A pedigree that is just loaded, and great markings to boot. (Caption from her baby picture, in this space until recently: You've heard it all before, but this picture really does NOT do this beauty justice--she is quite elegant and really does have a neck, honest.) See? I told you she had a neck.. I just loved that udder; among other things, the near perfect teat size and placement were an improvement on her dam's, which makes me quite pleased with Hunk. Electra was an exceptional milker, with a high test day of 4.9 pounds as a 3rd freshener. We lost Electra to a ruptured uterus in 2012. She managed to deliver two enormous live bucklings before she had to be put down. The post mortem showed that she had probably damaged her uterus during her previous kidding, which makes her last live delivery all the more heroic. She was a very tough little doe.
Show record: 8 x 1st, 1 X RGCH doe, 1 x GCH doe (2010, Tom Considine, HOMDGA Spring show)
Kidding record: December, 2007, single buckling by Rio; May, 2009, triplets, 2 does and a buck, by Halifax ; 2010, buck/doe twins by Bacchus; 2011, twin does by Avatar; 2012, twin bucks by Hallucination.
June, 2009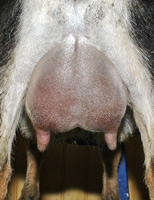 December, 2007
305 day test data
Age (yrs.months)
DIM
Milk, lbs
Fat, lbs
% Fat
Protein, lbs
% protein
high test day, lbs
3.0
218
483
27
5.6
20
4.4
4.5
3.10
222
711
33
4.6
30
4.2
4.9
5.01
67
197
10
5.1
8
4.1
3.2