Shay and her herdmate were transported for me from the 2004 ADGA Nationals by an Oberhasli breeder. Apparently, the two kids ran around this nice lady's kitchen and were a great hit, prompting her to joke that she would have to get herself a couple of "mini-Obers" as well! Shay's grandsire, Creek Road Hudson, is a buck I have long admired who has produced multiple Best Udder winners in the Buttin'Heads herd, including Shay's dam. Shay's sire is a gorgeous buck whose dam, Pageantry, has a lovely mammary system.
In addition to her winning bottle baby personality, Shay probably has the smoothest, tightest front end assembly in the herd. Her udder is her strongest feature, however; in 2007, as a 3 year old second freshener, Shay scored a 93% in mammary in her AGS Classification, despite a slight asymmetry probably caused by subclinical mastitis during her first freshening. She also holds the record for the shortest stay on my For Sale Page--about 15 minutes...(what was I thinking??!) In 2009 at her first LA session, she received an E in mammary which I believe is well deserved.
Shay was the almost-bridesmaid at several shows in 2008, so that her record really does not reflect how well she did; she would have several 2nd-best-udder in show and reserve-RGCHs to her credit, if such things existed. However, I believe that she has improved with each freshening so far, and that her day will come. I plan to keep several more doe kids, if she is kind enough to produce them for me.
She received a very mysterious + in mammary for her freshening in 2012, but fortunately her much more sensible E in mammary from 2009 is a permanent score...if anything, her udder is better than ever this freshening, but she was only 3 weeks fresh on LA day, and was criticized for "too much" mammary behind the leg...at least partly a function of some residual edema from her recent kidding, I believe. I wish I had more does with "too much" mammary behind the leg. She did receive one of the highest scores in the herd for her shoulder assembly, a bugaboo of this year's appraiser which resulted in most of my does that had previously received V's in this category suddenly developing A rated front ends. Well, I guess you have to take context into account in these things. I certainly would agree that Shaise does have a beautiful front end, even for my herd, which has up until this point been consistently praised for strength in this area. And even with her demotion to a + mammary, she still earned an 88.
Show record: 2 x 1st, 1 x RGCH (October, 2012, Topsfield Fair, Bob Bartholomew, Jr.)
Kidding record: 2006, triplets, two bucks and a doe by Turner Ashby; 2007, triplets, two bucks and a doe by Hunk; 2008, twin does by Giacomo (see Floria Tosca); 2009, twin bucks by Lancelot, 2012, triplet bucks by Ranger

September, 2012
August, 2012
June, 2008
305 day test data
Age (yrs.months)
DIM
Milk, lbs
Fat, lbs
% Fat
Protein, lbs
% protein
High test day, lbs
3.02
235
545
26
4.8
22
4.0
4.6
4.02
141
503
18
3.6
19
3.8
5.6
5.02
173
551
27
4.9
22
4.0
5.0
8.04
60
211
8
3.8
8
3.8
3.7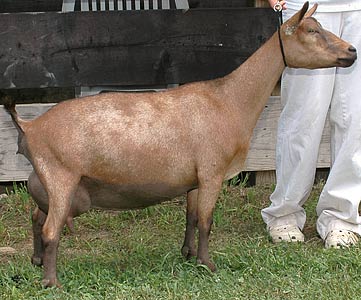 July, 2008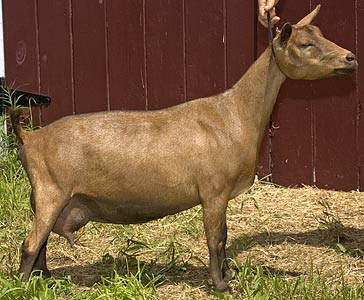 June, 2008 (Photos by Lorene Toth)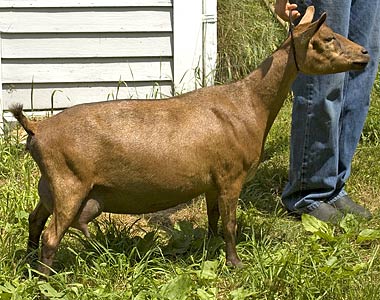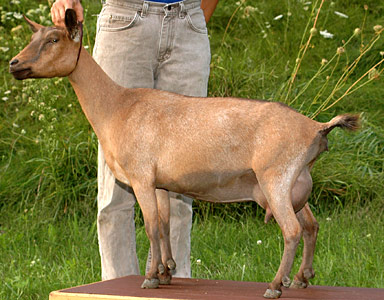 September, 2006 (photo by Declan Dean)
| | |
| --- | --- |
| | |
| August, 2004 | June, 2005 |