May, 2012
| | | |
| --- | --- | --- |
| DOB 3/19/04 | | LA 2010 VVEE 90, 2012 VEEV 90 |
Thanks, Michael for helping me get this picture! Nor'e is a beautiful doe with some beautiful relatives. Her full brother from a previous breeding, Twin Creeks BW Spinnaker, was retained at Twin Creeks as a herd sire, and her littermate sister, Twin Creeks BW Obsidian Bay, has been retained by Kellye as well. She had a very nice first freshening udder with beautiful attachments and outstanding teats and udder floor. Her third freshening udder is just gorgeous with near perfect attachments. Along with Calli, Wild, and Andromeda, a competitor for best teats in the herd. Third freshening udder pictures shown below. We've retained her daughter by Lancelot, Astarte, whose littermate, El Nino, is the foundation herd sire for the Seraiah Farm Nigerian herd.
Show record: 2 x 1st, 2 RGCH (10/12/2008, Topsfield Fair, Judge Ed Cavanaugh, 2010, Blandford Fair, judge Barb Norcross), 2nd place and Best Udder in Class, Aged Doe class, 2011 ADGA National Show.
Kidding record: 2006, single buck by Incredible Hunk; 2007, buck/doe twins by Rio (Yuki and Denali); 2008, buck/doe twins by Lancelot, 2010, single buck by Hunk, 2011, single buck by Avatar, 2012, single buck by CH Sirius Black.
May, 2012
August, 2010
305 day test data

Age (yrs.months)

DIM

Milk, lbs

Fat, lbs

% Fat

Protein, lbs

% protein

High test day, lbs

3.09

106

333

17

5.1

13

3.9

3.6

4.06
237
657
45
6.8
30
4.6
3.9
6.05
177
337
27
8.0
15
4.5
4.0
8.02
267
544
36
6.6
23
4.2
4.4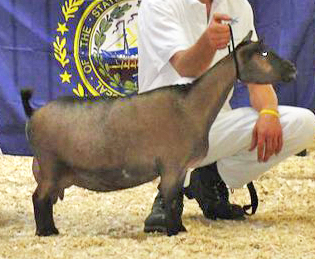 Nor'e in the ring at the 2011 ADGA Nationals (winning 2nd place and Best Udder in the Aged Doe class)--photo courtesy of Allison Spacek,
South Land Ranch
October, 2008
June, 2004

September, 2005 (photos by Jim McGonagle)

August, 2006