| | | |
| --- | --- | --- |
| DOB 1/5/04 | | LA 2009 ++VV 83 |
Rear view above by Cheryle Moore-Smith. I have always particularly liked this doe's dam, Treasure, who was RGCH on 5 occasions, and twice GCH. Sadly Treasure was lost to cancer recently. Andi is an absolute love, and a beauty as well. With that mark on her muzzle, she looks like she belongs in a "Got milk?" ad. That's appropriate, as she is a pleasure to milk with terrific teats.Thanks again, Kellye!
When Andromeda kidded her first time with beautiful twin does, of course I had no idea that her next kidding would be 2 years later, nor that it would be a horrific C-section with no live kids--so I sold both of her kids. After her mishap I feared I would not be able to get any kids from her to keep, so I approached the owners of her 2006 kids. I was not able to recover Starstruck, who was originally my keeper, but Seriphus has returned and will be a 4 year old first freshener in 2010. Fortunately we now also have her gorgeous daughter from 2009, Nimue.
A word about the name: I love this one. Andromeda was an Ethiopian princess rescued from a sea monster by Perseus, who then married her. Also it is a well known constellation--perfect for my dark, starry girl.
Show record:
Kidding record: 2006, twin does by Giacomo, 2009, single doe by Lancelot (see Nimue)
305 day test data

Age (yrs.months)

DIM

Milk, lbs

Fat, lbs

% Fat

Protein, lbs

% protein

high test day, lbs

5.04

280

568

-

-

-

-

3.6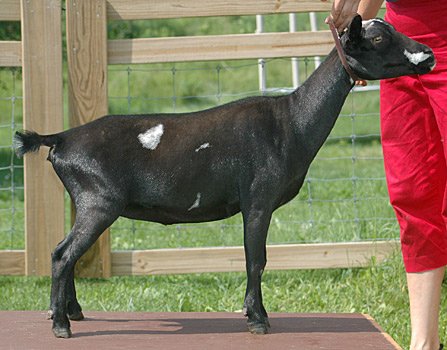 June, 2005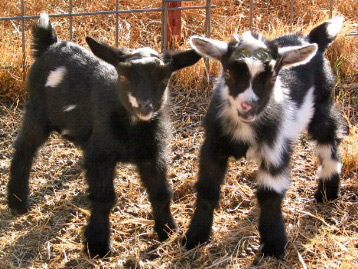 Andromeda and her brother, January, 2004 (Photo courtesy of Kellye Bussey, Twin Creeks Farm)