June, 2006
July, 2008 (photos by Emma Gould)
2/15/03 -- 3/18/16
I'm a longtime admirer of Jurassic, and Snowbird's breeding is an interesting combination of Jurassic, Willows and Twink's Pixie. Her sire, Creek Road Envoy, was a handsome buck owned by Stacy Brockett of SM3Pines. Snowbird's littermate brother, triple champion MCH/GCH/PGCH SM3Pines JurEn's Swell Foop +B, is an accomplished and stunning young buck, and her sister, MCH/GCH/PGCH SM3Pines JurEn's Sugar Glider 2*M, has a list of accomplishments too long to enumerate, including at least 6 x GCH, 4 x RGCH, and 2 x Best Udder. Both littermates are owned by Rusty Repp of Little Tot's Estate. Her dam, sire, and many of her siblings can be seen on the SM3Pines web site, here and here. Very similar in style to her beautiful dam, Snowbird has been slow to mature, but I believe she is a doe built for the long haul. I feel very lucky to have her here. She does hate to leave the farm and showing reduces her to a shivvering lump, so she has tended to stay home and raise her kids, which she does very well.
I lost Snowbird at age 13, after she delivered a huge post-mature doe kid at 152 days. She was such a sweetheart; I will really miss this one.
Kidding Record: 2005, twin does by Giacomo; 2006, twin bucks by Watercolor; 2007, triplets by Halifax; 2009, triplets by Ushikai; 2011, triplets by Hunk; 2012, triplets, two does and a buck by Avatar; 2013, buck/doe twins by Holy Bull, 2014, triplets, two does and a buck by Sugarman; 2016, single doe by Nikola.
305 day test data
Age (yrs.months)
DIM
Milk, lbs
Fat, lbs
% Fat
Protein, lbs
% protein
High test day, lbs
5.04
191
325
19
5.8
13
4.0
2.2
6.05
155
216
13
6.0
9
4.2
2.5
9.03
151
356
20
5.6
15
4.2
3.5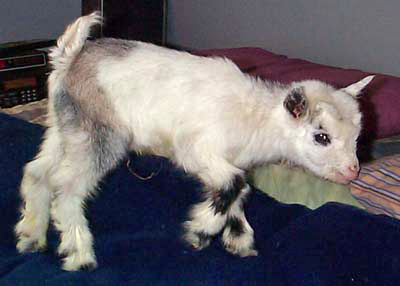 October, 2003