Our first Lance daughter to freshen is not a disappointment. She is not a large doe, but has beautiful general appearance and very nice attachments. She is milking very well, and every bit of that udder is milk--when she jumps off the milk stand, she looks like she has a rubber glove stuck to her butt. She has a very strong medial suspensory ligament, a lovely udder floor, a smooth well extended fore udder, and great teats.
Show record: 5 x 1st, 1 x GCH Sr Doe (9/2010, Tecoa Seibert, AGS)
Kidding record: 2009, single buck by Rebel, 2010, single buck by Bacchus, 2011, buck/doe twins by Hallucination (see Minerva).
May, 2010
May, 2009
May, 2009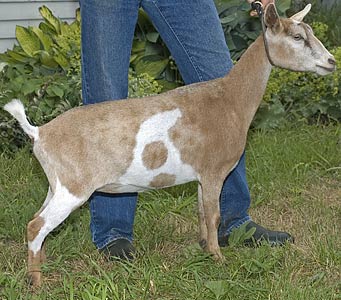 June, 2008