September, 2015
May, 2012
I just love this beautiful, sweet doe, sired by my favorite buck and in my absolute favorite color. We tragically lost her dam last winter, and her brother this winter, so I am even more grateful that I still have this doe in my barn. Freshened at 10 months old with a beautiful little (very little)udder, though it is an appropriate size for a doe so young. Her second freshening produced an udder with beautiful bloom, which enabled her to beat out her herdmate National CH Topaz all three times they were shown together.
Show record: 3 x 1st
Kidding record: 2011, buck/doe twins by Miyazaki, 2012, twin does by Hallelujah, 2013, buck/doe twins by Creek Road Hudson AI, 2015, buck/doe twins by King Asa.
May, 2012
305 day test data
Age (yrs.months)
DIM
Milk, lbs
Fat, lbs
% Fat
Protein, lbs
% protein
High test day, lbs
3.1
119
212
12
5.7
7
3.3
2.2
July, 2013
July, 2011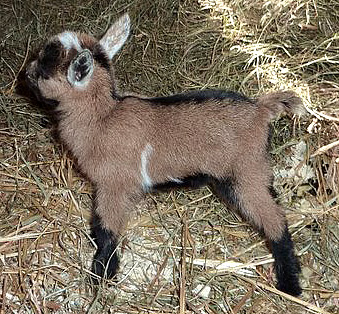 April, 2010