August, 2012
4/0/08 -- 12/24/14
Jubilee is one of our first Rebel kids to freshen and I'm not disappointed. She is smaller and more dairy than her dam, but if my eye is correct, she will have an equally nice mammary system. She was a very productive first freshener with one of the herd's softest and most collapsible udders. She did freshen a bit uneven that first time, which is reflected in her udder photo below, but I have had some good luck evening her out and I hope to see her more symmetrical next time around. Her second freshening still very uneven, and below I have done something I normally never do: the 2012 udder picture below is a reconstruction of what her udder might look like if it were not so uneven--really beautiful. While her udder is improved over her dam's in several ways, particularly foreudder extension, overall Jubilee is refined to the point of frailty, although her milk production does not reflect that. Because of the udder and production potential I see in her, I have retained her daughters by Hunk (Jubilation, 1 x Best Junior Doe in Show) and Hallucination (Banshee, still a tiny baby).
Show record: 1 x 1st, 1 x GCH Jr (July, 2009, Tamara Taylor(AGS))
Kidding record: 2010, single doeling by Hunk, retained; 2012, buck/doe twins by Hallucination, doe retained.
August, 2012 (rear view is constructed by reflecting the left side about the center--the actual rear view is quite uneven)
September, 2010
305 day test data

Age (yrs.months)

DIM

Milk, lbs

Fat, lbs

% Fat

Protein, lbs

% protein

High test day, lbs

2.04

135

241

15

6.2

10

4.1

3.5
September, 2010 (partly milked out)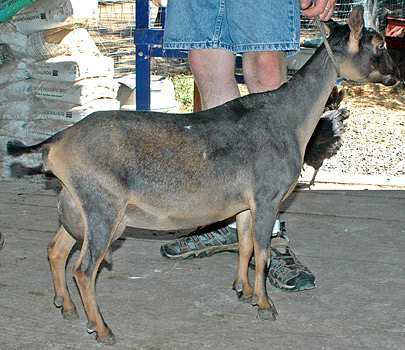 August, 2010 (standing naturally for LA)
August, 2009