July, 2017
| | | |
| --- | --- | --- |
| DOB 5/5/09 | extended pedigree | LA 2010 V Ec V -- V; 2011 VEVV 87; 2013, EVEV 89; 2014, VEEE 90; 2015 EEEE 91 |
Egghead, I love you so. She has the absolute most endearing personality, and loves being a dairy goat. She was most indignant when it was time to stop milking and dry her off in the fall of 2011. I also think she is quite beautiful, and our appraisers and the judges have so far agreed with me.
Show record: 1 x GCH Jr. Doe (Ed Cavanaugh, Southern Maine, May, 2010), 3rd in her class at the 2011 ADGA National Show, behind her herdmates Peregrine (2nd) and Topaz (1st and National Champion), 1 x GCH Sr. Doe (Kris Fraley, Sunny Sisters Show, July, 2017)
Kidding record: 2011, buck/doe twins by Hunk; 2012, triplets, 2 bucks and a doe by Avatar; 2013, single doe by Ranger; 2014, single buck by Sirius; 2015, triplets, two does and a buck by Rebel; 2016, single doe by Capriccio; 2017, twin does by Solaris.
June, 2017
April, 2015
305 day test data
Age (yrs.months)
DIM
Milk, lbs
Fat, lbs
% Fat
Protein, lbs
% protein
High test day, lbs
2.10
60
210
11
5.2
8
3.8
3.7
3.10
136
260
14
5.4
10
3.8
2.5
4.11
246
530
24
4.5
20
3.8
3.3
6.11
52
153
9*
**
7
4.6
3.5
May, 2015
June, 2015
July, 2011
May, 2011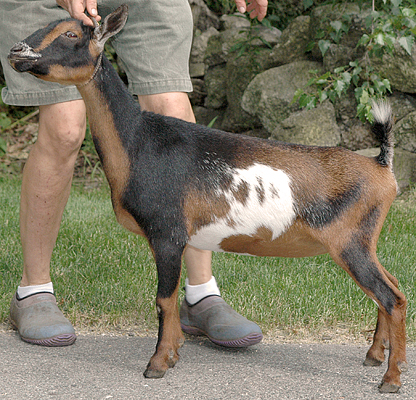 June, 2010