Since I am lucky enough to have had a lovely AI kid by Mantis born here, I thought I would include all the pictures I could find of Mantis himself and his relations on their own page. Thanks so much to Gail Putcher for most of these pictures!
This is the photo of Mantis you will see most everywhere on the internet--if anyone has a larger one, I would love to include it here. I am not sure when or where it was taken, but it probably should be courtesy of Cheryl Sugar, Sugar Creek Farm, where Mantis spent his breeding years. Mantis was the sire and grand sire of numerous foundation animals of the Sugar Creek herd. Gail Putcher had the following comments about Mantis and his pedigree:
'MCh Gay-Mor Domino's Mantis ++S was born 02/19/99. He was brown, black and white. His sire was Woodhaven Farms Domino (photo below) who was out of Woodhaven Farms Lacey's Avon by Willow Creek Paydirt, and his dam was my wonderful Gay-Mor Kingpin's Lacewing 4*D (Gay-Mor Al's Vanilla Kingpin x Gay-Mor Kneehi Toa Grasshopper 3*D). Grasshopper is still alive at Diane Gilibirti's in Virginia (she just sent me an e-mail about her today)."-- 9/8/11
To my knowledge, Mantis had the following stats: HES 90.0 (90 90 90) Excellent; Height: 23" @ 5 yrs; Show Record: 2 X GCH, 2 X RCH (received one leg).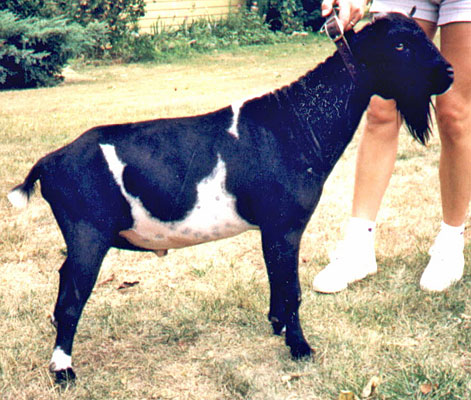 Woodhaven Farms Domino, 1999, courtesy of Gail Putcher
About Domino, Gail Putcher had the following comnents: "Domino's show record while I had him is 1 first, 2 seconds and 1 third. His HES score was 1.08-VG-87.87(88 90 87)."
Gay-Mor Kingpin's Lacewing 4*D, 2000, courtesy of Gail Putcher
Gail went on to describe the beautiful Lacewing: "Lacewing's milk records are: 0.10-19 3/4"-305-1064-61(5.7)46(4.3) 314-1086-63-47 #8 milk, #7 protein-1999 Top Ten Hi day 4.6 lbs 1.11-21 3/4"-305-1316-75(5.7)52(4.0) 310-1329-76-53 #2 milk, #4 tie BF, #4 protein 2000 Top Ten Hi day 6.2 lbs Show record-5 x 1st, 2 x 2nd, 2 x 3rd-3 x GCh (one time was not official because I didn't sign and nobody signed for me). She went Best Udder three times. HES score-1.05-EX 90.2(90 91 90 90) Code 1 foreudder, msl, capacity, head, front end, front legs back I think she might still be alive. I sold her to Terri Brown, who sold her, but I can't remember who bought her. She was one of my top does!"
Thanks again, Gail, for the notes and photos!